ASA Successful Hunter
&

Marksmanship Program
The Airgun Sporting Association (ASA) is excited to announce the ASA Successful Hunter and Marksmanship Program.  This goal of this program is to honor airgunners all over the country who are participating in their state's legalized hunting programs as well as focusing on marksmanship for ethical hunting practices.
Submit Your Airgunning Photos for a Chance to Win!
Attention Airgunner Hunters and Shooters! Show the ASA photos of your legally harvested game for a chance to win an air rifle! Don't live in a State where it is legal to hunt yet? Download the printable Official ASA Target and shoot a 5 shot group in the 2 inch red dot at 75 yards to be entered into the drawing!
Deadline for submissions is Jan. 15th – drawing results will be announced Jan. 16th. See more details and rules below.  Enter by December 30th for a chance to win one of the following rifles: * Seneca Dragon Claw .50 * Benjamin Bulldog .357  * Gamo Urban .22 * Umarex Gauntlet .25 * …and other prizes to be announced!
ASA Successful Hunter Program
To participate in this program, hunters will submit photos of their harvested game with details of the airgun used, ammo selection, and other details of their hunt.  Seasonal promotions will be sponsored by ASA member companies for a drawing that will include prizes awarded to successful hunters for that given season.
All legal game will be included for these prize drawings to include large game, small game, predators, and pest hunting as long as your hunt is fully aligned with all regulations within your state as far as season and means and methods of take.  Drawing winners being announced on the following dates: Jan. 15th, March 31st, June 30th, and September 30th. The prizes will be awarded through a random drawing of the hunters who have successfully submitted the required information about their hunt during each timeline.
Use the form below and submit your:
First and Last Name
Email
City and State of Your Hunt
Airgun Make and Model
Pellet / Slug Used
Attach a Photo of You and / or Your Harvested Game
Any other details you'd like to include
**All applications need to be submitted no later than 11:59 PM on Jan. 15th. Hunters can submit as many successful hunts as they'd like to be highlight, but only one entry pure drawing period will be allowed for each drawing. Drawing eligibility only open to participants living in the United States. Game harvested must be from Sept. 1 through Jan. 15h for this first prize drawing cycle and all local and state hunting regulations must be followed.**
ASA SUCCESSFUL HUNTER APPLICATION
[contact-form-7 404 "Not Found"]
ASA Marksmanship Program
Airgunners can download a printable ASA Target and submit a photo of their successful shot group.  A shot group of 5 shots within the red 2 inch circle at 75 yards will earn airgunners the credential of ASA Marksman and the use of the ASA Marksman logo on their social media channels, website, email signature, or other printed material.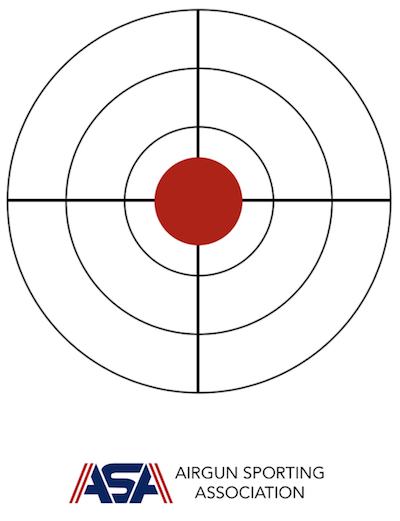 Download the ASA Printable Target
The purpose of the 2 inch group at 75 yards emphasizes the ASA's focus on marksmanship and the association's recommended yardage guidelines for ethical shooting practices targeting large game animals.
The 2 inch group requirement will hone airgunners' skills to target a game animal's vital zone. Furthermore, taking shots within a 75 yard range maximizes the foot pounds of energy of the projectiles thus increasing the probability of a successful harvest of that game animal. Marksman who have successfully completed this challenge will also be included for the quarterly prize drawings as part of the ASA Successful Hunter and Marksmanship Program.
ASA Marksmanship Shooting Attempt Guidelines:
Download the printable ASA Marksmanship target and print on a standard 8.5 x11 sheet of paper. When attempting your shots for record, make sure you are shooting at a designated shooting range or safe area with proper backstop and follow all other safe shooting practices. We will use the honor system for this challenge.
Mark off a 75 yard shot distance from your shooting position to your target.  Using a proper backstop attach your target and move to your shooting position.  You can attempt the shots in any shooting position you desire.  In order for this to be considered a successful attempt all 5 shots need to be inside or touching the outer edge of the red 2 inch circle. No other holes from additional shots can be on the sheet of paper. Submit your photo with your full name, what state you live in, the date, airgun and ammo used.
Use the form below to submit your name, email, details of your shot group to include the airgun used, ammo selection, the State where you live, attach a photo of your 5 shot group showing the entire target (no other shots can be on the paper), and any other details you'd like to include.

ASA MARKSMAN APPLICATION
[contact-form-7 404 "Not Found"]